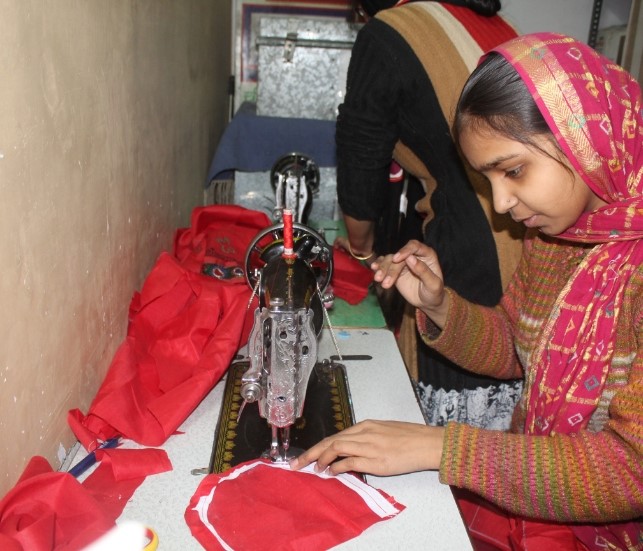 The whole of humanity has witnessed the pain and agony of women's journey to achieve their fundamental rights. Despite the rights and reservations achieved, they still struggle to achieve economic and social independence to be able to lead a life of dignity and freedom.
AmbaUjjwal is a livelihoods initiative to provide skilling and marketing solutions for underprivileged women. A socio-economic program to uplift and empower women of underprivileged sections of society by providing them with the means to learn, make and market their productive skills. It is an effort to provide a marketing platform for goods made by these hardworking and talented women to help generate income. For long, the women have felt a lack of direction in their efforts to make a better life for themselves and their families. AmbaUjjwal supports them by providing an opportunity for them to grow and forge their own identity and hope for a better life. Every product you buy is a step towards empowering them
Established by Amba Foundation, a charitable Society and with support from Canara HSBC OBC Life Insurance Company, under its Ujjwal Bhawishya Project , the mission is to strive for the holistic socio- economic upliftment and inclusion of marginalized women in society and in the economy.

The founder of Amba Foundation Jyoti Sarwal , took notice of women of weaker section of society and their daily struggles. She saw the struggles of female domestic workers, daily wagers and the unemployed. She observed that most of these women were stuck in the vicious cycle of poverty, lack of education and opportunity. Like each of us, the women too have inherent skills and talents. Given the right opportunity they have the hunger and drive to break out of their vicious cycle of deprivation and need. Our hard working and multi-tasking women can lead on many fronts given the right opportunity and training!
AmbaUjjwal is the result of consistent efforts made at the grassroots by Amba to provide training and opportunity to women for income generation and economic empowerment.
Our young and energetic team on the ground has strived hard to link local skills to market needs through creation of a platform for marketing of products made by its community women for income generation. The goal is to link and empower more and more members of our women's self-help savings groups to improve their craft, learn new skills, generate income and take pride in their work.
Profits generated from AmbaUjjwal are used for supporting education and healthcare programs for the women beneficiaries and their families.
A registered charitable Society Amba Foundation has been working for last two decades in the field of education, skill training, health and community development with special focus on underprivileged children, women and youth. Over the years, the organisation has grown into a multidimensional entity. From teaching children to vocational training for youth, to health camps and community development programs they have done it all. The Foundation strives towards making women more aware, educated and empowered to lead a better life and become role models in their community and lead the change! To know more about the Foundation and support its work